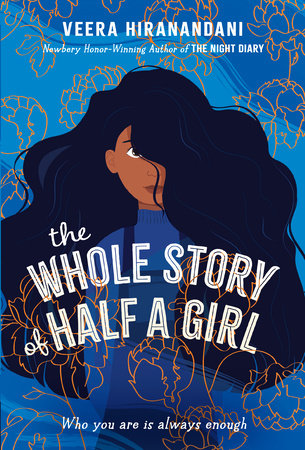 I evaluate every book I choose to read aloud to my students by questioning if it will provide a window or mirror to my students. Will this book reflect who they are? Will it open their eyes to a life much unlike their own? I love watching my students faces as they experience characters much like themselves, but I especially enjoy watching their faces when they realize the world is a little bigger, a little more unique, and often a lot more challenging than they expected.
As an adult, the books I read for pleasure are often windows…. I see into other people's lives, the rich, the famous, the struggling… and I imagine. However, when I was flipping through some books in my classroom and came across The Whole Story of Half a Girl I noticed  instantly that this book might reflect my own experience. In this book our main character, Sonia, is half Indian and half Jewish American. The first part of the book really explores this sense of identity and how youth often try to figure out who they are based on the roles and identities their born into.
I was born to a Jewish mother and a Catholic father. I grew up in a town with very few Jewish people and often felt very "left out" when kids spoke of their CCD experiences, Confirmations, and more. But because my dad was Catholic, I also felt "left out" at Hebrew school… I had Christmas, Easter, and a dad with a large Jesus tattoo on his arm. Needless to say I too felt like "half a girl" in these settings.
As the story goes on, Sonia's father loses his job and struggles with depression. As a child, both of my parents battled addiction and the mental health issues that come with that disease. Growing up, I never saw my experience reflected in books. I wonder how transformative it would have been to me as a child to see a little bit of my life in Sonia's. I may be 34 now, but I was 11 again as I read about Sonia and deeply related to her family. It makes you feel "normal" and like you're not alone, even when your life might feel a little abnormal. That's the power of a great book!
Sonia also experiences all of common social struggles and triumphs that our tweens face. She had to navigate social situations, friends, standing up for who she was, and being true to herself while also navigating her home life. As a teen I often felt I had two lives- school, where I could be "normal", and home, where I had to be an adult and handle situations many kids didn't. I really felt if Sonia was a real person, she and I could have shared stories and been friends.
I didn't expect to find a mirror in this book when I grabbed in from my classroom library, but that's why we as teachers need to not just have books in our classroom, but also read them. You never know what you might find… and what student you can recommend it to who might find it to be just what they needed.